Scooter Repackaging - How to Repackage Your Scooter for Return/Exchange Shipping
Updated a year ago
Please note this article is for RETURN and EXCHANGE shipping only. For REPAIR shipping, refer to this article.
USING THE ORIGINAL BOX
Each scooter comes in a cardboard box with styrofoam inserts, which we ask that you keep for the duration of the warranty period. Your scooter may be double-boxed. Keeping the box will make it a cinch to send your scooter back to us for repairs if needed! 
If your scooter arrives at our repair centre damaged, your scooter will not be eligible for return and you will be responsible for return shipping. Please refer to our Return & Cancellation Policy here for more information on this policy. 
UPDATE: As of March 2021, all of our boxes have come labeled with a message saying "keep this box".
IMPORTANT: If you're reusing the original box, in order to avoid additional inspection by UPS on behalf of US Customs and Border, please make sure to do one of the following options:
Ensure that you ship with an over box, to cover any labelling of the original box, or, 
Manually remove the "Class 9 Diamond" from the box, which looks like this: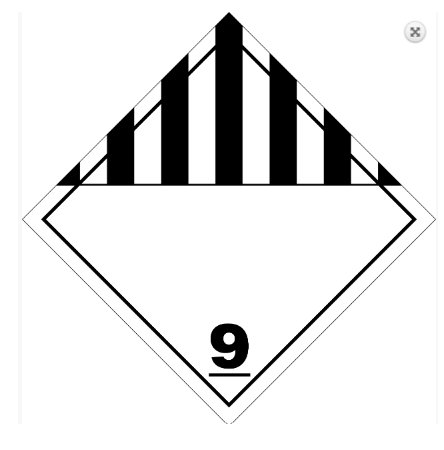 By doing so, the shipment will be routed to the destination as planned without being held.
Failure to package the scooter properly may result in serious damage to the scooter during shipping, and may also render the scooter unsafe to handle for the courier, our technicians, and you! Apollo's warranty will not cover any damage sustained to the scooter during shipping when packaged improperly, so please be sure to pack your scooter extremely well.
Was this article helpful?